Archive for the 'News' Category
Shinty's Heroes is an hour long special that features music and chat from the Blas Festival 2013.
It was an honour and pleasure to be musical director of this show alongside our MC for the evening, Shinty historian, Hugh Dan MacLennan, to highlight and showcase the great men that left their highland shinty playing communities to head off for the Great War.
BBC ALBA Saturday 5th January 2014 9pm and repeated again on Sunday 6th January 2014 at 8pm.
This show which features an amazing array of musicians including, Kathleen MacInnes, Duncan Chisholm, Iain MacFarlane, Allan Henderson and many many more is being revisited at Celtic Connections 2014, Mitchell Library on February 2nd. Click here for ticket info
Delighted to be Musical Director and part of the House band with Manran again this year for the BBC ALBA Hogmanay show.
This years show comes live from Partickburgh Hall, Glasgow and is live from 11.30pm 31st December 2013.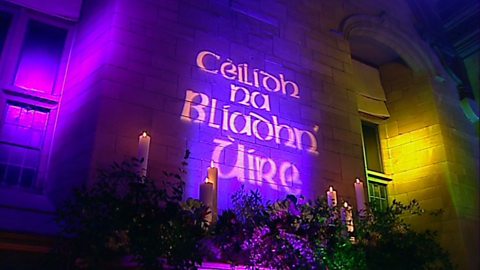 This years line up consists of.
Barbara Dickson,
Linda MacLeod,
James Graham,
Darren MacLean,
Paddy Callaghan,
The Glenfinnan Ceilidh Band,
Greater Glasgow Police Pipe Band,
Glasgow Gaelic Choir,
Anna Massie,
Allan Henderson,
and Manran.
It will be some party again.
Delighted to feature very briefly in the new Home Coming 2014 Visit Scotland advert which was launched on November 20th. With a huge year ahead for Scotland with the Ryder Cup, The Commonwealth Games and much much more, it's an honou
r to be part of the official advert to promote all things Scotland.
If you want to watch the advert then you can click on the link for a peak


http://www.youtube.com/watch?v=WvymXo3xF3E&feature=c4-overview&list=UU1FdvQG5MFwzv0PY6dMsaFg
A huge thank you to everyone who came out and watched and supported 'Shinty's Heroes' at the Nevis Centre as part of the Blas Festival. It was a fantastic night and delighted that Beesness filmed the show and will be aired next year on January 5th 2014 on BBC ALBA.
Shinty's Heroes will also be revisited at Celtic Connections 2014, at the Mitchell Library, on Sunday 2nd February. You can purchase tickets from the link attached.
https://etickets.celticconnections.com/WEBPAGES/EntaWebEvent/EventSeatBlockPrices.aspx
Delighted to announce that you can now buy our new Manran album 'The Test' from www.manran.co.uk
The official launch and worldwide distribution date is from 3rd June 2013, however we are giving our fans the chance to buy it early direct from ourselves if you so wish.
Hope you enjoy it as much as we enjoyed making it and see you at a gig very soon
I had the privilege of presenting alongside Skye legendary gaelic singer, Arthur Cormack, 'Best Music Video Award' at this year's Film G Award's on Friday night.
Congratulations to nominee's and finalists in the category, and a special congratulations to Dòmhnall Eòghainn Macfhionghain for his award winning video 'Manadh'
You can watch the full line up of awards and winners from http://www.filmg.co.uk/en/winners
Just home after another fantastic two week tour of Kazakhstan. The 'Kazakh Ceilidh Commando's' venture out East each year to help raise money for local charities and orphanages through special events, concerts, and Burn's Suppers.
This was my 9th year and was no different to previous mad adventures, with lots of amazing experiences, and catching up with friends we have made over the years.
We spent a week in the city of Atyrau and then over to Aktau, with huge thanks going to Graham, Dave, Colin, Stuart, Kev, Ray and many many more for giving us such a laugh.
Looking forward to next year already, and you will be glad to know my mankini is already washed, dried, and ready for it's next Kazakh adventure.
A huge thank you to everyone at Brit Chambers of Commerce, Shanghai, and to the Shanghai Scot's who looked after us and gave us a terrific trip to this incredible city. The gigs were great fun and such a pleasure to bump into two old primary school pals that I hadn't seen in nearly
18 years! Amazing!
Ewen (Herring) Henderson did his best to confuse me before delivering Robbie Burns' famous "Selkirk Grace" by filling my head full of nonsense lines and changing words before I had to deliver. Thankfully the four short lines didn't leave me at the crucial moment, and to the sponsor "Famous Grouse"  I give thanks.
I didn't thank you the next day however…
Hopefully see you all again next year for more of the same.
谢谢
Xièxiè
Happy New Year to you all.
I hope 2013 is a fantastic year for you, your loved ones, and for all the new adventures and people you/we have yet to meet.
It was fantastic to once more bring in the bells live on BBC ALBA's hogmanay show live from Achnagairn House, Kiltarlity, and once the camera's stopped rolling, and the words "that's a wrap!" rang out, let me tell you, what a party we had. Although the stories cannot be printed,  I'm sure in time over a wee dram they may start to leak out.
A huge personal thank you to Donna Murchison, and all at the BBC who trusted me once more to be this year's Musical Director. A huge honour and a delight to work with such a great crew and pool of musicians.
Thank you all for your continued support, and I look forward to sharing a dram, tune, and plenty of craic with you throughout 2013.
Bliadhna Mhath Ùr
We, (Manran) were over the moon to pick up the first ever Creative Scotland, and Daily Record Award for Traditional Arts, Scots and Gaelic.
It was an incredible night in Glasgow's famous, Kelvin Grove Art Museum, where over 400 invited guests were given a meal to feed a horse, and distinguished guests presented with awards ranging from Films-Music-Acting.
It was a real honour to be amongst so many inspirational and inspiring people.
Thank you very much to everyone once more who voted for us through to the final, and to the panel of judges that picked us as the winners.