Archive for the 'TV and Radio' Category
Shinty's Heroes is an hour long special that features music and chat from the Blas Festival 2013.
It was an honour and pleasure to be musical director of this show alongside our MC for the evening, Shinty historian, Hugh Dan MacLennan, to highlight and showcase the great men that left their highland shinty playing communities to head off for the Great War.
BBC ALBA Saturday 5th January 2014 9pm and repeated again on Sunday 6th January 2014 at 8pm.
This show which features an amazing array of musicians including, Kathleen MacInnes, Duncan Chisholm, Iain MacFarlane, Allan Henderson and many many more is being revisited at Celtic Connections 2014, Mitchell Library on February 2nd. Click here for ticket info
Delighted to be Musical Director and part of the House band with Manran again this year for the BBC ALBA Hogmanay show.
This years show comes live from Partickburgh Hall, Glasgow and is live from 11.30pm 31st December 2013.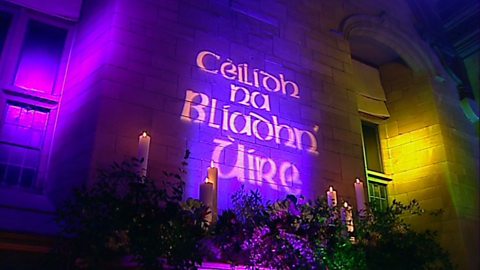 This years line up consists of.
Barbara Dickson,
Linda MacLeod,
James Graham,
Darren MacLean,
Paddy Callaghan,
The Glenfinnan Ceilidh Band,
Greater Glasgow Police Pipe Band,
Glasgow Gaelic Choir,
Anna Massie,
Allan Henderson,
and Manran.
It will be some party again.
Join Hugh Dan MacLennan, Jonathan Sutherland, Fraser Ingles and myself for this years 106th Camanachd Cup final, live on BBC2 BST 14.15 on Saturday September 14th from An Aird, Fort William.
A one hour special programme made on legendary accordion player Gordon Connel from the isle of Tiree. An insight into the life of this tutor, the players he has
taught and inspired, and a blether with other accordion players around the country.
Also featuring the likes of  Phil Cunningham, Donald Shaw, Sandy Brechin, Martin Green, John Sommerville, Mairearad Green, Daniel & Martin Gillespie, and many many more…
Monday 11th March 2013 9pm BBC ALBA and repeated the following day at 10pm.
Manran will be Robbie Shepherd's house band for his Celtic Connections 'Take the Floor' broadcast this Saturday, 2nd February.
It will be recorded live from Glasgow's Pierce Institute in Govan from 19.05.
Hope you manage to tune in, and if not, 'aw the best till then' 🙂
BBC Radio Scotland 93-97fm, 810MV